Dry Needling in Bozeman
As a technique to target trigger points or knotted muscles, dry needling is a safe, drug-free therapy that's used all over the world. This method is highly effective for chronic muscle conditions that don't respond to other therapies and intense pain associated with herniations.
How Dry Needling Helped Dr. Jones
For 25 years, Dr. Jones had a knot in the side of his thigh. He had tried everything, including traction and various types of chiropractic care from different chiropractors. Nothing helped-until Dr. Purser treated him with dry needling after getting certified in this modality. After just four treatments, the knot in Dr. Jones' side is almost gone.
What to Expect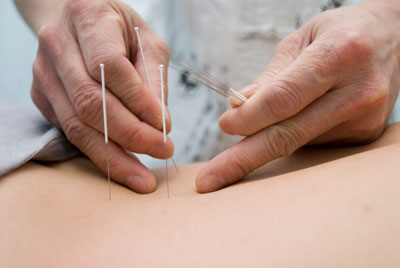 If you are a new patient who is coming to Bridger Chiropractic Clinic just for dry needling, we will perform an exam and determine what needs to be done, then provide the therapy. Although we use acupuncture needles, the therapy is different from acupuncture. Most often we use dry needling on a patient that we've been working with that hasn't responded, or hasn't gotten as good a response as we want from chiropractic care.
A Patient Success Story
One of our patients wasn't responding as fast as we'd like with chiropractic care to address a knot under his shoulder blade that he had for two months. Nothing he tried made it better until he saw Dr. Purser for a dry needling session. After the session, he came out of the treatment room saying, "That was awesome!"
FAQ
How long is a dry needling session?
Each session is 30-45 minutes. It takes 10-15 minutes to insert the needles and then the patient is allowed to rest for 10 minutes and then the needles are removed. It's a time to heal yourself and focus on your wellness. We have a room specifically set up for your dry needling session.
Will I experience relief right away?
Typically, it takes about 24 hours to get the full effect of dry needling but many patients notice a difference in their degree of discomfort following their first session. Although some patients see relief right away, persistent cases can require multiple sessions for more chronic ailments.
How many sessions will I need?
It depends. Sometimes one session will be all you need, but Dr. Purser has never had to do more than six sessions. Depending on the severity of your condition, she will determine how many sessions you need to do.
Where did Dr. Purser get her training in dry needling?
Dr. Purser attended training in Bozeman from Dr. David Fishkin, a New York chiropractor and founder of the Dry Needling Institute. He is considered to be an expert educator and clinician in the use of dry needling. Dr. Purser attended a series of his classes and got certified in dry needling.
This method is a relatively painless, natural drug-free approach to chronic pain. While you may feel the insertion of the needles, many times you won't even know that they are in. The vast majority of our patients can tolerate the therapy. We believe that the benefits far outweigh any discomfort that might occur.
There are few side effects associated with dry needling. You may experience some soreness or bruise after your session but these are temporary. One of the greatest benefits of the therapy is it's drug-free and a great alternative to risky surgery.
Book an Appointment
If you'd like relief from your muscular pain, we want to help. Contact our Bozeman practice today to schedule an appointment for dry needling!
---
Dry Needling Bozeman, Belgrade MT | (406) 587-9122