Pulstar Technique in Bozeman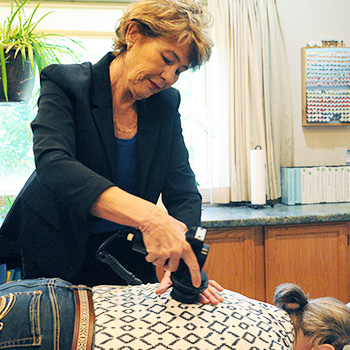 Following a wrist injury Dr. Purser searched for a chiropractic method that she could perform that was very effective for her patients and possible for her. After attending a seminar about the PulStar she visited clinics in Idaho and Wyoming to see for herself how patients responded to it. She has never looked back – the results are so exciting and the process so easy for the patients!
PulStar Utilizes Modern Technology
The PulStar uses a hand held Impulse Head containing Piezoelectric Sensors and is connected to a sophisticated computer program. Each vertebrae or other joint is analyzed for proper function and then displayed as a graph providing both Doctor and Patient with precise information regarding joint functions.
This data, along with other clinical information obtained from the patient history, examination, x-rays, etc. is used to determine the most effective course of treatment to obtain the best results in the shortest period of time.
Adjustments with PulStar
In treatment or adjust mode, the PulStar delivers a series of precise, computer controlled, gentle impulses to free-up joint fixation, relieve muscle spasm and restore normal joint function.
A post-analysis is performed and compared with the pre-treatment analysis to visualize and verify the results of treatment.
Patients love how easy and comfortable it is for them. They simply lay face down on a massage table – there is no turning or twisting, just fantastic results.
This adjusting tool has been very well researched for use on the entire spine and for extremities. See for yourself and give us a call to start on the path toward total healing.
CONTACT US »
---
Pulstar Technique Bozeman | (406) 587-9122